Interesting Places to Go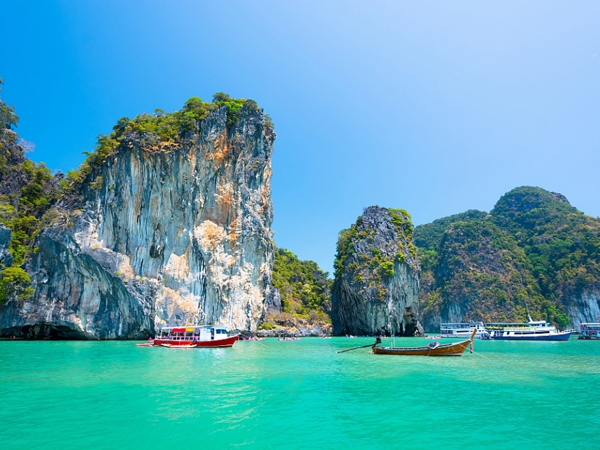 Khao Chee Chan Buddha Mountain opens 06:00 – 18:00 hrs. Dress modestly and please follow exactly as the rules state. Plus, you shouldn't get too close to the Buddha because it may cause an accident.

If you want to visit Koh Lan, you can do it in a one-day trip. On the island, there are mini buses and motorbike taxis in services. But if you are feeling adventurous, you can rent a motorbike to ride for yourself.

There are so many different kinds of places for you to stay in Pattaya such as big hotels, resorts, guest houses, condominiums, and apartments. Most of these places are right next to the beach.

There are many things you can do in Pattaya such as water sports, sunbathing, go-karting, bungee jumping, horse riding, golf playing, diving, cabaret show watching, and many more.

During the night time, all the way down Pattaya road is full of various entertainment options. Here you can always find something to eat, drink, and just somewhere to chill out.

Pattaya is a popular beach resort on the Gulf of Thailand, just 150 km southeast of Bangkok –a mere two-hour drive. Pattaya's pulsating nightlife is well known, but local authorities have, in recent years, improved the quality of the beaches and reinvented the resort as a more family-friendly destination. Today, hundreds of thousands of visitors are drawn each year to Pattaya to windsurf, water ski, swim, sunbathe, snorkel, sail, or take trips to nearby islands. Other activities include Bungee jumping, cycling, skydiving, go-Karting, Muay Thai (Thai boxing), and Paintball. Golfers, both novice and expert, are well catered to as well, with a wide selection of golf courses around Pattaya. Another major draw for visitors to Pattaya is the wide selection of restaurants serving some of Thailand's freshest seafood. Due to the high number of expatriate foreigners in Pattaya there is also an excellent selection of authentic foreign eateries serving French, Italian, Swiss, German, Hungarian, Scandinavian, English, Indian, Arabic, Japanese, and Chinese cuisine. Drawing such a large number of diverse visitors from across the world, it's no surprise that Pattaya also boasts an incredible choice of accommodation. Those on a tight budget and those with money to spend are equally able to find rooms to suit their needs. Visitors can always find some peaceful beach time at nearby Jomtien beach, just 3 kilometers south.

Just over one hour from Bangkok's Suvarnabhumi Airport, Pattaya is a lively beach town that draws visitors from around the world. With activities that include a wide array of water sports, golf, shopping, cabaret shows, an elephant village, and fascinating museums, it's impossible not to have an action-packed Pattaya holiday. Unless of course it's relaxation you crave, in which case there are beach chairs and umbrellas lining the Pattaya shore, where wandering vendors will cater to your every need: from barbequed shrimp to a foot massage. Pattaya is certainly a Thai beach resort that meets the needs of any visitor on any budget.